Author:
Veselin Nedeff
|
Posted:
January 13th, 2012 |
Category:
Statistics
|
9 Comments »
|
We saw tremendous growth in QR code usage in 2011. We have made some stats for the first half and 3rd quarter of 2011 and now we want to present you deeper statistics of overall usage of QR codes created with YouScan.me.
We saw an increase of 800% of QR codes scanned when comparing January 2011 and December 2011. Below is detailed data of all scans made through 2011.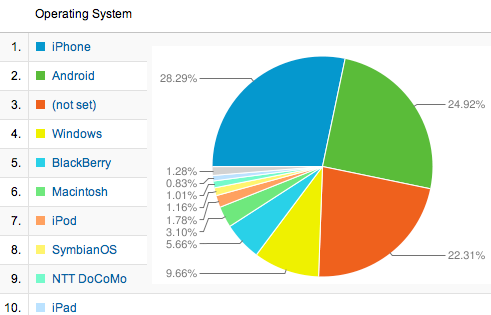 As you can see from the graph, the majority of scans come from iOS and Android devices. Scans made from iPhone hold the first place with 28.29%, second is Android holding 24.92%, followed by Windows Phones – 9.66% and BlackBerry phones – 5.66%. When counting the scans by OS we need to add iPods (1.78%) and iPads (0.83%) to the iOS numbers. When it comes to mobile device branding Apple holds the first place, followed by HTC, Samsung, RIM, Motorola, Sony Ericsson, LG and Nokia.
Read the rest of this entry »
---