Author:
Veselin Nedeff
|
Posted:
October 14th, 2011 |
Category:
Video
|
5 Comments »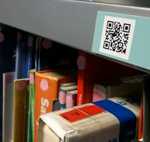 QR codes and education go hand in hand these days. We have covered some topics how they can be used in education and to educate kids and we think that QR codes have real exciting future in this sphere. An excellent presentation, which again highlights how QR codes can be used in education, is available after the jump!
Examples of using QR codes on Trades training, Tertiary, K12 and class are available here.
Tags: class, classrom, education, k12, students, tertiary, trades training
---
Tweet