Author:
Veselin Nedeff
|
Posted:
July 27th, 2011 |
Category:
Tips
|
1 Comment »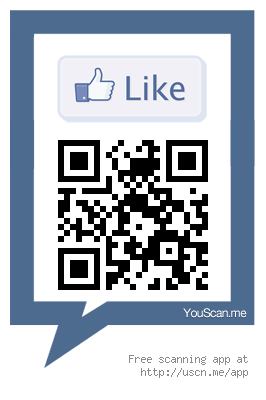 One of the services we offer you is the creation of QR codes for Liking Facebook Fan pages. Looking at our stats I can say these QR codes are the most created ones and it makes sense when you have in mind the 750+ million Facebook users. All industries (Retail, professional services, automotive, health care, hospitality, food, recreation, entertainment, education) are adopting QR codes for linking to Facebook for growing the Facebook fan base and to increase the number of Facebook product "Likes". This is true because QR codes can be used to link the non-digital and digital everytime and everywhere.

There are several way to engage your customers like displaying QR code posters or stickers to locations where it can easily grab the attention ot audience. You can add QR code to your product packaging, to common office surroundings, waiting room tables, fitting room walls, point-of-sale countertops, shopping bag exteriors, door exits or window displays. You can place a QR code beside a specific product as a sign that encourages users to scan and Facebook "Like" the product. Whether you use QR code for sharing your products or gathering fans remember to include reasons why following you on social networks adds value for the user. For example you can say "Like us on Facebook and be updated with latest trends and promotions." According to eMarketer 37% of Facebook users Like a fan page to get coupons and discounts and 68% of consumers are more likely to buy with a positive Facebook friend referral, which makes QR codes very easy way to engage new customers.
We already have lots of users creating QR codes for Facebook Like Promos and everyone of them is experiencing great results. Here are some examples we covered lately QR Codes by Peanut Butter & Co., QR Code by WM Dyer and QR Code by Arda Beach.
Tags: automotive, coupons, discounts, education, entertainment, Facebook, fan page, Food, health care, hospitality, like, product, professional services, QR code, recreation, retail
---
Tweet