Author:
Veselin Nedeff
|
Posted:
August 16th, 2011 |
Category:
Tips
|
No Comments »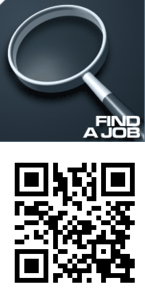 We have covered lots of ways to use QR codes, from education here and here, connecting B2B, selling on eBay or promoting on Facebook, and now I want to talk about using QR codes to advertise employment opportunities. Since today's businesses and firms are working in constantly changing conditions the whole process of HR and hiring people is complex.
One of its biggest issues with creating advertising for open positions within your firm is that they can change daily. The process of recreating these advertisements on daily or even weekly basis can be costly and that's why we are suggesting to use QR codes for this.
Our QR codes are dynamic, which means that you can edit all the info at any given time and people who scan you code and are interested in you ad view up to date info. We create a mobile friendly webpage for you and then a QR code that links to this page. This lets you print the QR code to your advertisements and change your postings without reprinting.
Here at YouScanMe you can create social QR code which can link to your posting on Facebook or YouTube, or personal QR code with your business details and notes about the job available. Also an option is Forward codes which you can use if you have own mobile friendly page to link. Just Sign Up for account and create your QR codes.
Tags: ads, advertisements, business, dynamic qr code, employment, firms, job agencies, jobs, listing, posting
---
Tweet