Author:
Veselin Nedeff
|
Posted:
October 4th, 2011 |
Category:
Statistics
|
4 Comments »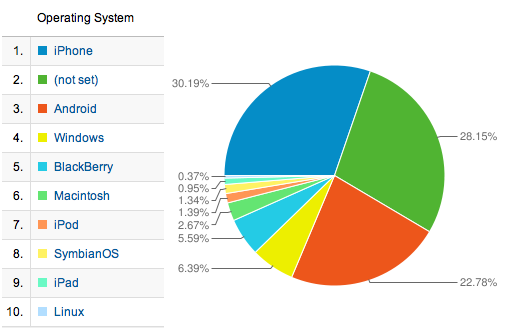 Here are some inside stats of QR code usage and penetration in world for Q3 2011. Since our last stats for the First half of 2011 we saw growth in both creation and scans of QR Codes. However we have some change in places when it comes to devices used to scan codes. Last period Android phones lead iPhones with more than 8%, but now we have a different picture. In Q3 2011 iPhones are responsible for 30.19% of scans, with Androids responsible for 22.78%, which is a total game changer when we compare metrics from the last period and now. Here is some catch, so take a look at the graph and you will see a HUGE part of 28.15% of the scans which OS is marked as "not set". From my experience and some research about Google Analytics i understood that these are mainly Android and Windows Phones so the final numbers will be different.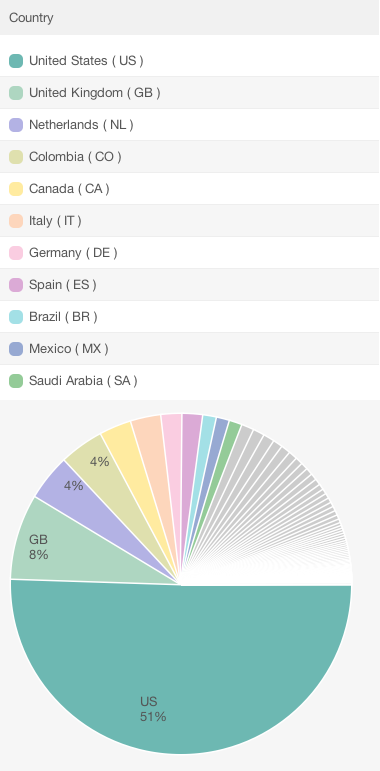 We had Japan and US leading the countries stats for the first half of 2011 and now we had some shifts. United States hold the first place with 51% of the scans. It is followed by United Kingdom (8%), Netherlands (4%), Colombia (4%) and Canada, Italy, Germany, Spain, Brazil, Mexico and Saudi Arabia down the sequence. This overall increase of QR code usage in North and South America and Europe again shows that more and more businesses and personals are adopting QR codes.
We have now enabled "Location Tracking" feature which can be used on any code to track the exact geographical location of those who scan your QR code and detect its phone. So the next stats will be more deeper and accurate.
Tags: 2011, Android, Countries, iPhone, location, operating systems, q3, q3 2011, QR codes, stats
---
Tweet