Author:
Veselin Nedeff
|
Posted:
July 7th, 2011 |
Category:
Statistics
|
25 Comments »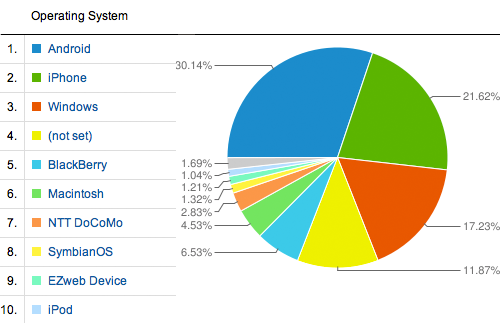 We are devoted to give you all kind of statistics of QR code usage and penetration in world. We saw a tremendous growth in QR code usage in 1st quarter of 2011 since 2010 and now it is time to share some of our data for the first half of 2011. Here is info and charts of our data gathered since our launch in February till now. As you can see Android phones lead iPhone with 30.14% to 21.62% of the scans and following the iPhone closely are the Windows Mobile and Windows Phone 7 devices with 17.23%. With about 70% of the scans from these operating systems it is clear to see what kind of people can be targeted to scan QR codes.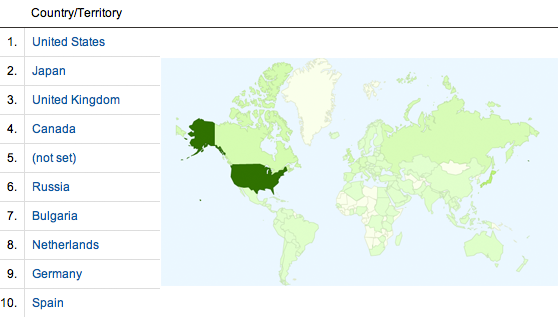 From the countries stats we can say that Canada, UK and Russia are catching up with the leaders US and Japan. Since there are QR code generators with long history in Japan and many people use them we think this is the reason to have US as first ranking country in our statistics.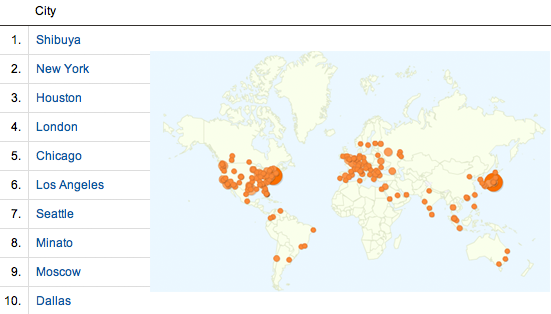 As you can see from the cities stats the penetration of QR codes is mainly in North America, Western Europe and Japan. Scanning in Shibuya in Tokyo, New York, London, LA and Moscow show clearly that in big cities the rush for QR code marketing has began and everyone with need to catch up sooner or later.
Tags: Android, Cities, Countries, iPhone, mobile, operating systems, scans, stats, windows mobile, Windows Phone 7
---
Tweet