Author:
Veselin Nedeff
|
Posted:
January 13th, 2012 |
Category:
Statistics
|
9 Comments »
We saw tremendous growth in QR code usage in 2011. We have made some stats for the first half and 3rd quarter of 2011 and now we want to present you deeper statistics of overall usage of QR codes created with YouScan.me.
We saw an increase of 800% of QR codes scanned when comparing January 2011 and December 2011. Below is detailed data of all scans made through 2011.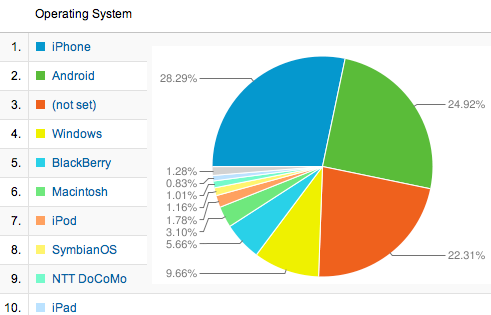 As you can see from the graph, the majority of scans come from iOS and Android devices. Scans made from iPhone hold the first place with 28.29%, second is Android holding 24.92%, followed by Windows Phones – 9.66% and BlackBerry phones – 5.66%. When counting the scans by OS we need to add iPods (1.78%) and iPads (0.83%) to the iOS numbers. When it comes to mobile device branding Apple holds the first place, followed by HTC, Samsung, RIM, Motorola, Sony Ericsson, LG and Nokia.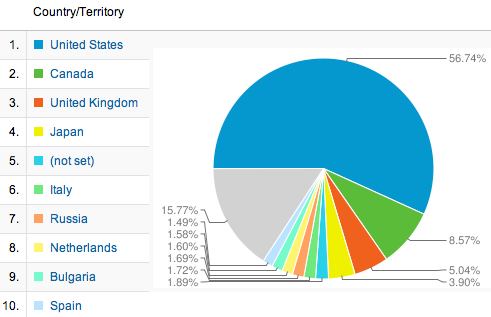 Now we continue from where the scans were made. The leader with absolute majority of 56.74% is United States, which means the adoption of QR codes there has finally hit a landmark and people know, understand and use QR codes in their daily life. Next in the list are Canada, United Kingdom, Japan, Italy, Russia, Netherlands, Bulgaria and Spain, with low margins among them. You may note that most of the countries in our stats are English speaking. This is due to the fact the we launched our service in English, but now we offer YouScan.me in Dutch, German, Korean, Spanish, Japanese, Portuguese and Malay languages as well.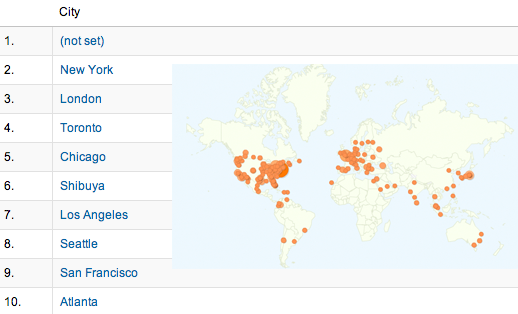 Here are the most active cities, which has the largest portion of scans. There are a lot of folks that hasn't set their location, but the most active city is New York. It is followed by London, Toronto, Chicago, Shibuya, Los Angeles, Seattle, San Francisco and Atlanta.
These are stats concerning where scans of QR codes and now we will give you data about the people and organizations who has created QR codes with YouScan.me. As you know we offer 3 types of QR codes – Social & Video, Personal and Forward. In 2011 66% of all QR codes created with us were Social & Video, 19% were Personal and 15% Forward. More than 5000 fan pages on Facebook, 4000 Twitter profiles, 2000 videos from YouTube and Vimeo, 2500 venues on Foursquare, Google Places and Facebook Places, and over 300 apps from App Stores are added to QR codes for this time.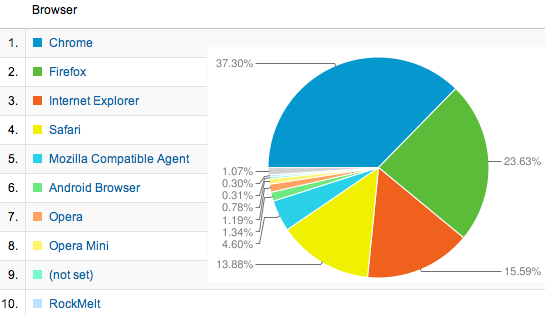 Above is the graphic of browser people use to access YouScan.me and create QR codes. It is not surprise that Chrome leads the chart with 37.30%, followed by Firefox with 23.63%, Internet Explorer with 15.59% and Safari with 13.88%. Most of the people (64.28%) come from Windows PCs followed by Macintosh (21.15%).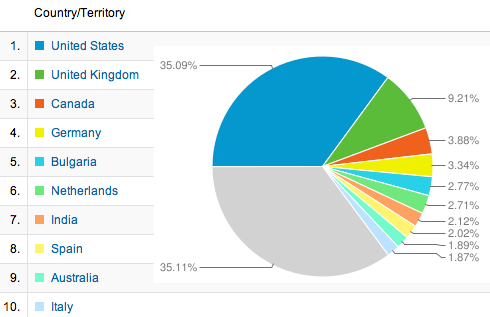 United States leads by 35.09% when comparing countries of origin of QR code creators. Second and third are United Kingdom and Canada respectively with 9.21% and 3.88%. They are followed by Germany, Bulgaria, Netherlands, India, Spain, Australia and Italy in the top 10 of countries.
We hope that these insights will help you better understand how QR codes are used around the world. We believe that in 2012 the rise in QR code usage will be higher and will become mainstream technology for connecting online and offline world.
Tags: 2011, 2011 stats, Browsers, Cities, Countries, Devices, OS, QR code, statistics, stats, Usage
---
Tweet