Author:
Veselin Nedeff
|
Posted:
November 10th, 2011 |
Category:
News
|
No Comments »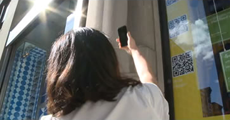 Like we said before it is very good to sell eBay items through QR Codes eBay and now we see the eBay Inspiration Shop. It has taken window shopping in NY to the next level. In basic it is a 24/7 "shoppable" storefront with interactive windows showcasing a collection of new, must-have merchandise for the fall season—from denim to digital cameras, engines to eReaders and wristwatches to new wheels. Check out video after the jump.


The "always-open" store windows enable shoppers to browse and buy the very moment inspiration strikes, leveraging eBay's mobile technology to shop anytime, anywhere, anyhow. The eBay mobile app allows consumers to scan custom Quick Response (QR) codes and shop similar items from more than 200 million listings on the eBay marketplace.
A new US study on shopping reveals that nearly half of shoppers want to make an immediate purchase when they find an item they love, and also browse store windows for inspiration. So don't hesitate, just sign up for YouScan.me and create QR code to sell your eBay items.
Tags: eBay, Inspiration Shop, QR codes, sell, Storefront windows
---
Tweet