Author:
Veselin Nedeff
|
Posted:
September 19th, 2011 |
Category:
News
|
1 Comment »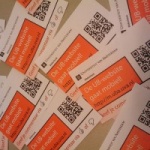 Are QR Codes and SEO are walking arm in arm or QR Codes are enemies of SEO marketers? This is quite asked question and here are some opinions. Anise Smith thinks that SEO marketers are concerned that quick response codes can actually disrupt their search engine marketing or SEM strategies because QR codes can lead you directly to a website without the need for search engines. This is meaningful by the reason that searcher simply uses the "QR-as-navigation" to be immediately directed to the website or brand they are looking for, then all the efforts of SEO marketers will be put to waste. That makes people no longer competing for top search engine rank results. You have to simply open your QR reader application, scan the code and it will take you there, but don't forget you need a QR Code in hand to be scanned.

Guys from Proven SEO talk about how US Postal Service use QR Codes to release a discounted offer to mailers all around the country. They will cut 3% of postage fees if the mailer includes a QR code in their promotional mails. Actually, the mailer is in a win-win situation here even if you count what he has to spend on when printing the QR code on the promotional catalogues. For one, the QR code and the incremental ink is free. The only thing the mailer will be paying for is the printing changes on the catalogue. The offer may be over but this will not stop companies from printing the QR code on their promotional mail as they have already seen its benefits.
The other great thing about Quick Response Codes is the Lightning Fast speed you get the info. There is no need to open your mobile search engine to type and search for the brand. Simply open your QR reader application and scan the code and it will take you there.
We would love to hear your thoughts.
Tags: QR codes, Scan, search engine optimization, sem, seo, speed
---
Tweet