Author:
Veselin Nedeff
|
Posted:
June 6th, 2011 |
Category:
News
,
Statistics
|
5 Comments »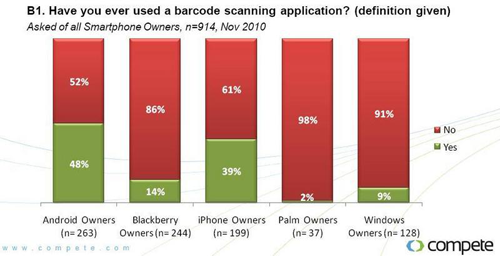 Mobile barcode scanning has emerged into mainstream in US shows intelligence survey by Compete. Compete's reports show that barcode scanning apps have been used by 28 percent of smartphone owners. Android owners hold the highest adoption rate — 48 percent have tried a barcode scanning application. Not far behind are iPhone owners (39 percent), followed by BlackBerry owners (14 percent).
Very important is the fact that more than half of these active respondents said they scanned a barcode while in a store in order to compare the price of the product with prices in other stores. Others (23 percent) claim to have scanned an image of a product to bring up more information about it . And 13 percent said they've scanned a product's barcode so they could purchase it with their smartphone.
Now think about new opportunities that QR codes can deliver to your business, how to spread the word of your products or services, or just lead people to relevant info. Just sign up for YouScan.me and discover hundreds ways to engage people with QR codes.
Tags: Android, BlackBerry, Compare, Compete, information, iPhone, Order, Purchase, Smartphone, Survey, US
---
Tweet