Author:
Veselin Nedeff
|
Posted:
June 21st, 2011 |
Category:
How To
|
7 Comments »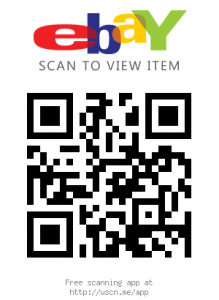 Selling on eBay is more or less like selling items in any other marketplace, you need to have thing that people want to buy and promote it well. This is absolutely true if you have real world business who as well in shops sell stuff on eBay. If you are in this group of traders we welcome you to join YouScanMe and create QR codes for your eBay items.

You can promote item with QR codes that point to eBay's mobile site where your offer is listed. For example you can stick QR code next to the products in your shop to give them detailed info of it instead of printing sheets with specifications. That can help you to manage the logistics. People now can shop directly on eBay and you can organize the delivery and you don't need to have everything in stock.
QR codes can be very useful if you imagine and create marketing campaign to sell more efficiently on eBay.
Scan and scroll down to preview how you can implement eBay on QR codes.
Tags: eBay, efficient, items, Marketing, promote, QR codes, sell, shops
---
Tweet