Author:
Veselin Nedeff
|
Posted:
November 3rd, 2011 |
Category:
How To
|
No Comments »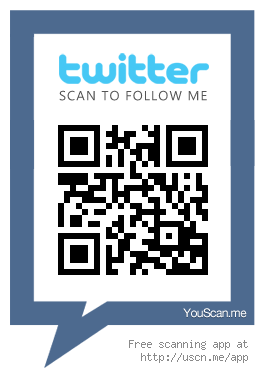 Creating QR Codes that link to your Twitter profile is effective way to interact with socially engaged people and let them follow you on Twitter. People just have to scan your code and follow your tweets. You can constantly update them with your latest ideas, information or any kind of content you like.
Whether you use QR code for sharing your Twitter profile or gathering followers remember to give a reward to the user. For example you can say "Follow us on Twitter and be updated with latest trends and promotions."
Here is step by step guide How to create QR code for Twitter profile:

You just have to open Twitter, click on Profile in your browser and look up to the address bar. The URL should look like this,

and you have to copy the entire URL underlined in red or just your profile ( which in the case is "youscanme"). After this you have to open your Dashboard and select Social & Video tab. Enter a title for your QR Code and proceed down to adding actions. On the left is Twitter and after selecting it you have to input here what you have copied in previous step. Here are screenshots how it must appear in order to show your Twitter profile correctly.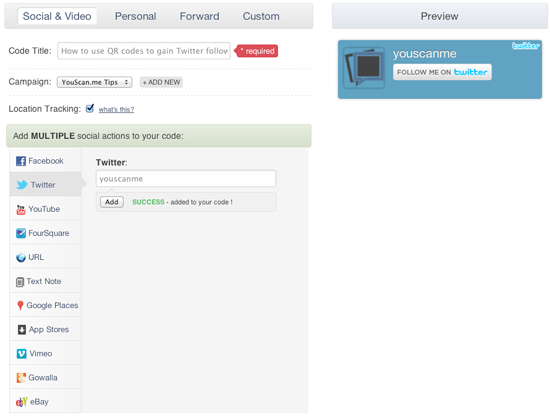 Notice that you have Preview on the right, which indicates how you are doing with inserting actions to your QR code. If your desired Twitter profile appears there everything is OK and your just need to hit the Generate button to have your Twitter QR Code.
Add this code to any printed material in offline world so your Twitter Follow button will be live to everyone who scan your QR codes.
Tags: Followers, QR codes, Tweet, Twitter, Twitter Follow Button
---
Tweet