Author:
Veselin Nedeff
|
Posted:
December 1st, 2011 |
Category:
How To
|
4 Comments »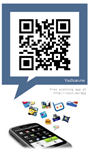 With Android being the biggest smartphone OS (latest report) it is very important that You, the developers are aware how to successfully spread the word of your apps. Most of the android users know what QR codes are and have scanned QR code at least once, so using it to promote your apps is good opportunity. Using QR codes as marketing tool is unique way to let people find your app without the need of inputing long URLs, searching, browsing, etc.

We made linking app from Android Market as easy as possible. You need a Social & Video QR code for this, then select App Stores from the left, and Android Market as can be seen below.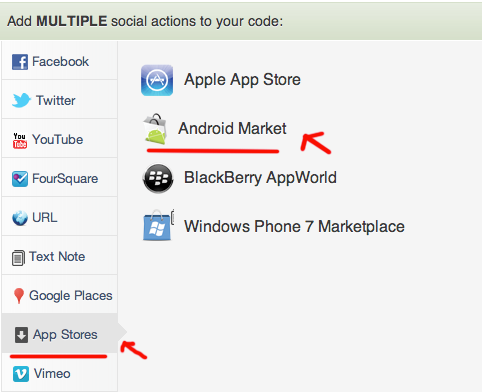 You will be asked to input app's package name which can be found in the URL of the app in Android Market. For example If you are adding the WhatsApp Messenger its URL is https://market.android.com/details?id=com.whatsapp , the package name is com.whatsapp, copy and enter it.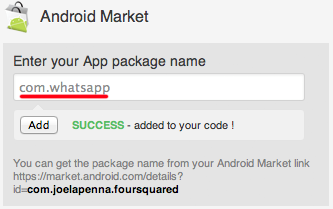 Click Add and look for the Preview on the right. It will show confirmation and how the QR code landing page will look like. if you have done everything correct it will look like this.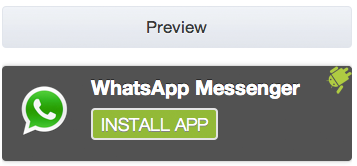 Creating a Social & Video QR code for your app will not only link to Android Market and embed info from it, but lets you add additional info to this mobile landing page and enhance user experience. You can add a video from YouTube or Vimeo which shows your app in action or great review. You can also fill a text note, website, or your Facebook fan page and Twitter profile. With all these social options linked to QR code, you have the fantastic chance to shows complete info about your app to those who scan. Just scan the following QR code to see example.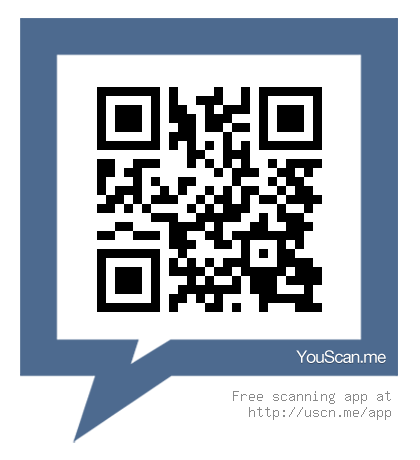 Put these to all kind of printed materials, PDFs, advertising and see the results for yourself. With one QR code you are able to let people preview your app, follow your community on social networks, download and use your app.
We offer you also Forwarding QR codes. They can serve you if you just want to forward those who scan to Android Market on their devices and download your app. Creating one of those is very simple process – you just have to choose a name for your code and input app's Android Market URL.
Note that all QR codes created with YouScan.me are dynamic. This means that any of the information is editable at any given time with the code working and displaying updated content. If you have many apps we let you organize QR codes in Campaigns, Track location of scans and export data to CSV to better understand and enhance your marketing strategy.
Tags: Android Apps, Android Market, apps, guide, information, location, Social networks, Video
---
Tweet