Author:
Veselin Nedeff
|
Posted:
June 30th, 2011 |
Category:
How To
|
5 Comments »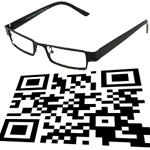 Using QR Codes in classroom or general in education becomes common these days. Teachers are starting to implement them in many ways, because they saw amazing learning opportunity in them. Some of them understood that adding QR codes to items students use every day can be essential for faster learning and accessing online stuff like videos, stats, graphs, etc. with ease. QR codes can lead to book trailers to the backs of library books, to math worksheets with video tutorials of how to solve the problems or to the school literary magazine, a gallery of all the artwork that was submitted but couldn't fit in the print version and many more.
Here are two videos that shows different approaches of using QR codes in education. One shows how QR Codes are used to enhance learning opportunities for our students at McGuffey School District in Claysville, PA and the other one shows QR Codeprinted on a sticker and placed in a text book and when pupils scanning the QR Code they are taken to a video of related material.

QR codes can be put around the school to drive attention or bring information for some issues. For example you can use:
– One in the entrance – linking to a text of the school mission statement or URL of school website.
– One in the corridor – linking to school vision.
– One (or more) outside every classroom with planning of work being completed within, audio of music compositions or poetry recitals, slideshows of artwork etc.
– One in the hall with an associated video clip/snippet of the Christmas/end of year show.
– One in the library with associated audio clips of pupil book reviews.
Don't forget that many of the people are still not familiar with QR codes, so give them a device when they arrive and explain them how to scan QR codes..
Tags: audio, books, classroom, education, gallery, information, learning, magazine, print, QR codes, Scan, school, stickers, students, teachers
---
Tweet