Author:
Veselin Nedeff
|
Posted:
June 10th, 2011 |
Category:
Case Studies
|
3 Comments »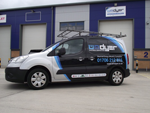 WM Dyer become the first Electrical Energy Efficiency Contractors to use QR codes on vehicle livery. WM Dyer is company that provides electrical energy management and energy efficiency solutions which allow their clients to significantly reduce their energy bills. At this time of difficulties and crisis across most industry sectors they decided to upgrade the fleet with a view to making longer-term cost-savings and ultimately improving on the bottom-line for the company.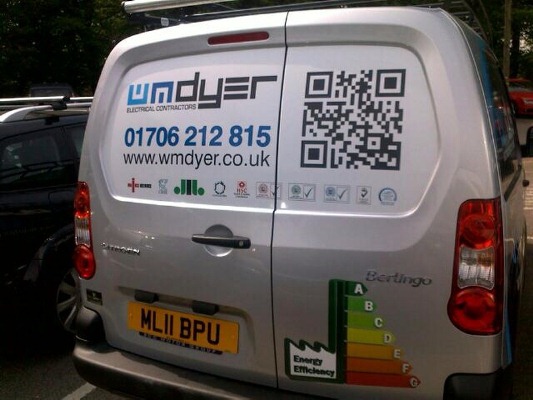 William Dyer, Managing Director said; "By upgrading our new fleet of company vehicles, we also got the opportunity to sharpen up our brand proposition. We have introduced a new sleek design, together with embracing the "QR" code concept on each van which gives people with 'smartphones' the ability to easily scan and access our full services portfolio and contact details. I believe this type of investment can communicate our confident brand and will set us apart from our competitors by demonstrating that we are a forward thinking company, indicating our strength in the UK electrical contracting industry."
This is great implementation by WM Dyer and we are very happy that they use our QR codes to connect with potential customers.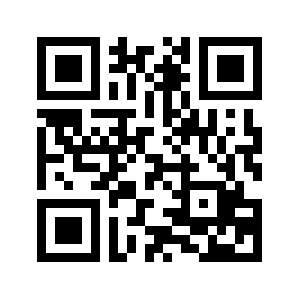 Connect with WM Dyer on Twitter, Facebook, LinkedIn or visit their site.
Tags: Brand, Closed Circuit Television, Data/ Structured Cabling, Electrical Heating Installation, Electrical Maintenance, Emergency Lighting Installation, Fire Alarm Installation, Intruder Alarm Installation, Lighting Installation, Personal, Portfolio, Power Distribution, Smart Metering, Vehicles, Ventilation Installation
---
Tweet