Author:
Jim Barber
|
Posted:
February 14th, 2012 |
Category:
Case Studies
|
No Comments »
Branson, Missouri is a unique resort destination nestled among the beautiful Ozark mountains and pristine lakes of Southwest Missouri.  Branson is often referred to as the "Live Music Show Capital of the World," and for good reason.  With a population of just over 10,000 residents, the town is visited by well over 8 Million tourists each year who come to sample the wide variety of entertainment to be discovered.
What makes Branson unique among all other travel destinations, are hundreds of family friendly shows and activities for visiting guests to choose from. This vast array of attractions creates a need for marketing professionals to create promotional materials that not only stand out from the crowd, but also engage their prospective audience with online social media.  Both of these objectives are easily solved by implementing the free QR Code services to be found at YouScan.me.
YouScan.me Is An Essential Marketing Service
Since my business partners and I first opened our magical Branson variety show in 2004, the marketing materials promoting the Hamner Barber Variety Show have evolved to reflect new additions, as well as provide a freshness to our advertising and promotional materials.
QR Code… It's Hip To Be Square!
This year, the Hamner Barber Show brochure not only sports a new, fresh design, it also incorporates some high-tech options that makes it easy for Branson visitors who carry smartphones (ie, iphone, android phones, etc.) to connect to a social media website promoting everything from streaming video, Facebook, Twitter, FourSquare, directional maps and secure, online ticketing options for the Hamner Barber Show.
QR codes have been around for several years, but this year the use of smartphone technology has saturated the cell phone market to the point that it is now an important marketing tool for any business to include in their promotional materials.
I incorporated our Branson show QR codes into the design on the back of our new Hamner Barber Show brochure as well as several new print ads for various newspaper and magazine publications. You can take a test drive yourself by scanning the code above with your own smartphone (or click on the image if you don't have one with a QR code scanning app) to see our YouScan.me mobile formatted webpage with links to various social media sites that are popular with fans and friends of the Hamner Barber Theater. It works just like most of the popular and expensive apps would, only by having an account with YouScan.me… it's free!
I am confident that these QR Codes will increase our business, and yours as well. In fact, after only a small quantity of the new brochures have been available, we have already received hundreds of click-throughs to our YouScan.me mobile media page. Over the next month, we will have our brochures and ads fully distributed in the Branson area, and we expect to see those clicks be in the thousands and higher.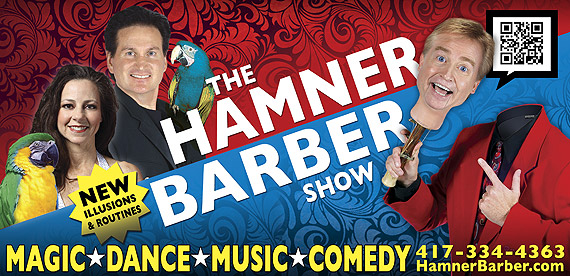 The Branson Lakes Area Chamber of Commerce and Convention & Visitors Bureau has also embraced QR Code technology in this year's Official 2012 Branson Vacation Guide by including codes that link to various special Branson offers promoted on BransonDeal.com. You'll even find a coupon for a free Hamner Barber Souvenir Cup, Soda and Popcorn if you come visit our Hamner Barber Theater in Branson, Missouri!
Thanks to YouScan.me for providing this amazing service that every marketing professional needs to take advantage of.  Continued success in your development!
Jim Barber – GM, Partner, Entertainer, Marketing Director for Hamner Barber Theater
Tags: advertisements, Android, branson missouri, brochures, hamner barber, mobile apps, print, print advertising, QR codes, social marketing, website
---
Tweet