Author:
Veselin Nedeff
|
Posted:
June 23rd, 2011 |
Category:
Case Studies
|
7 Comments »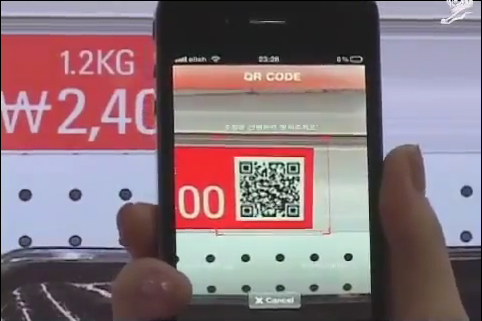 This is one of the best use of QR codes in the world till now. Tesco / HomePlus is South Korean grocery chain and they had a goal of becoming the #1 grocery chain without opening more stores. They are going to make it with creativity and forward thinking.
Their idea is to let the store come to the people and turn waiting time into shopping time. They placed virtual store display in Subway which look like the same as actual store, that allow people to shop from their smartphones. Every product picture displays where exactly the same as the displays in stores, except than instead of putting products in your cart you scan QR Codes to add items to your mobile cart. Then your purchase is delivered in the afternoon. Watch the video to see how they do it.
Tesco / Homeplus virtual store with QR code shopping has a huge success. Their online sales increased 130% and HomePlus is now #1 in online market and a close second offline.
Tags: grocery, homeplus, mobile cart, Purchase, shopping, South Korea, store, tesco, virtual
---
Tweet