Author:
Veselin Nedeff
|
Posted:
August 2nd, 2011 |
Category:
Case Studies
|
5 Comments »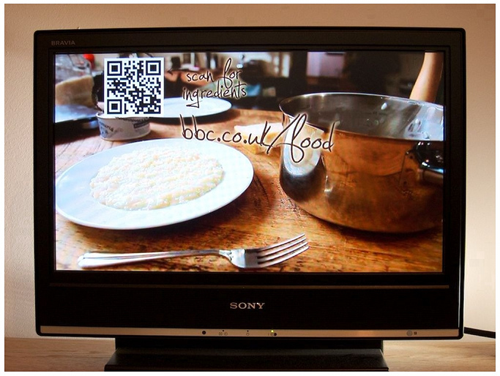 Cookery goes interactive on BBC One TV Program The Good Cook with QR codes. BBC just made a step forward with implementing QR code to make remembering of recipes more convenient for viewers. Now you can throw away notepads and stop recording cooking shows you like, you just need to have smartphone with QR reader app installed. Just scan the code you see on your TV screen and you are headed to BBC's mobile site where you get all ingredients and procedure while following the directions given by the chef-host.

Danny Cohen, Controller, BBC One, says: "I want BBC One to lead the way with interactivity and technological innovation so that we can keep engaging audiences in new ways. I hope viewers will find this experiment with QR codes to be a simple but useful tool to help them re-create the recipes they see on screen."
All this is done in the name of giving the ability to have food that tastes and looks like it came from a restaurant using common ingredients at home. Linking TV show with QR codes to mobile site makes very simple the process of providing the information to actually go away and cook what you've seen on TV.
Alison Kirkham, Commissioning Editor of Formats and Features for BBC One, adds: "Pairing this technological innovation with Simon Hopkinson's cooking really gives this series a sense of purpose. I hope, by making the ingredients instantly accessible, the Quick Response codes will help encourage our audience to cook Simon's delicious food for themselves at home."
Just scan the QR code on picture above to see what I am talking about or see the images below from BBC's mobile cooking site.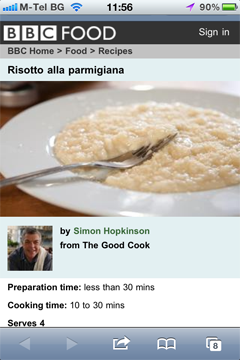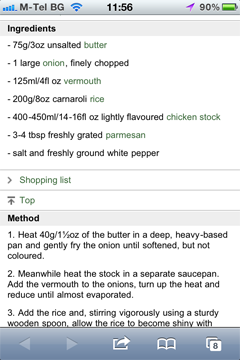 Tags: bbc, cooking, ingredients, interactive, mobile site, procedure, QR codes, Recipes, the good cook, tv program
---
Tweet