Author:
Veselin Nedeff
|
Posted:
November 9th, 2011 |
Category:
Case Studies
|
No Comments »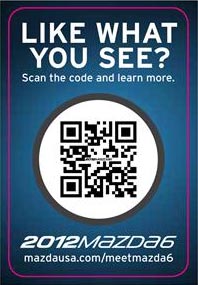 Mazda USA and the St. Louis-based rental car company understand the potential to reach up to a million car renters a day with QR codes. The codes will first appear in Mazda 6 vehicles available at Enterprise Rent-A-Car locations. The simple graphic asks "Like What You See? Scan the code and learn more." and it is are placed on key tags as well as the driver side window of all vehicles, making vehicle information accessible to more than just the rental vehicle occupants. Scanning the code with a smartphone will launch a mobile-optimized site where car rental customers can learn more about the vehicle they are renting, including finding a local dealer.

There are codes in many of the Mazdas now, and that rollout will be complete in the next few months, according to Lisa Martini, Enterprise spokesperson. Beyond the Mazda campaign announced today, Enterprise is working with several other manufacturers, including Toyota (Avalon) and Nissan (LEAF and NV) on programs. In the short term, QR codes will be in tens of thousands of vehicles, and Enterprise anticipates that as the 2013 model-year vehicles come in, they will be close to having QR codes in all one million vehicles, Martini says.
"OnRamp exposes the thousands of renters who are likely looking for a new vehicle to a new experience that extends beyond the rental transaction and puts a spotlight on vehicles from our manufacturing partners like Mazda," Lombardo said in a release.
"The ability to engage directly with drivers while they are in the midst of their rental experience is extremely valuable," said Ron Stettner, vice president, U.S. Sales Operations, Mazda North American Operations, in a release.
Credit : MediaPost
Tags: Car Rental, car window, info, key tags, Local Dealer, Mazda
---
Tweet