Author:
Paolo Tosolini
|
Posted:
November 25th, 2011 |
Category:
Case Studies
|
1 Comment »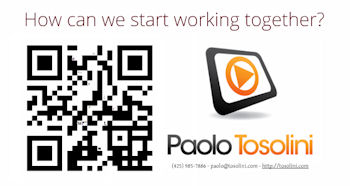 In today's social world, getting noticed by a potential new employer requires an effort to raise above the noise. Luckily, with some creativity and good use of technology, there is still room to explore, discover and experiment new ways to communicate your personal story in unconventional ways.

When looking for a new job, traditional resumes speak an important language, that is the one of search engines. Sometimes though, you need a different approach that has a little more soul than a plain text document. In this post I want to share an experiment I've done by mashing up my resume with animations, photos, videos and QR codes.
First, I created a mind map of the key facts I wanted to feature in my Presume (that's how a Presentation + Resume is called). Then I chose a presentation tool that would be fun and easy enough to use. Recently I've been creating several presentations using Prezi, that is a zoomable canvas that lets you browse through ideas without being limited by a specific slide dimension. Prezi also supports video playback so I was able to embed a YouTube movie together with a variety of photos that best describe my personality and professional career.
Lastly, I needed a screen with a strong Call-To-Action. So I created a QR code that resolves with my contact information and I incorporated it in my closing animation. YouScan.me has become my tool of choice to generate QR codes for several reasons:
Security: I can password protect my QR code campaigns
Manageability: I can update the information related to the QR code at any time
Ease of use: the tool is quite straightforward and it has a nice UI
Reporting: I get a sense of who and where my code is being scanned
Here is my final Presume (or better Prezume given I used Prezi as authoring tool).
What are your thoughts about creating unconventional resumes?
(This is a guest post by Paolo Tosolini, Enterprise Social Video consultant)
Tags: CV, employment, Job, Presentation, Prezi, Resume, Work
---
Tweet